Toyota China & Haima Auto Signed Strategic Partnership Agreement
---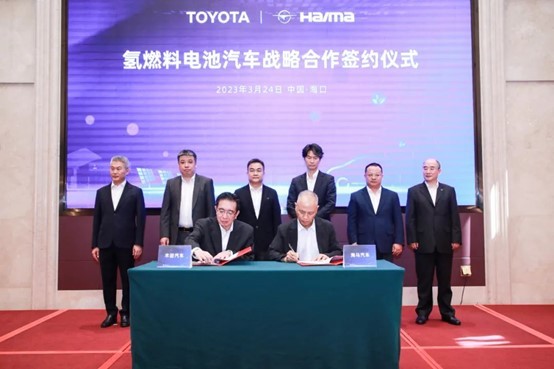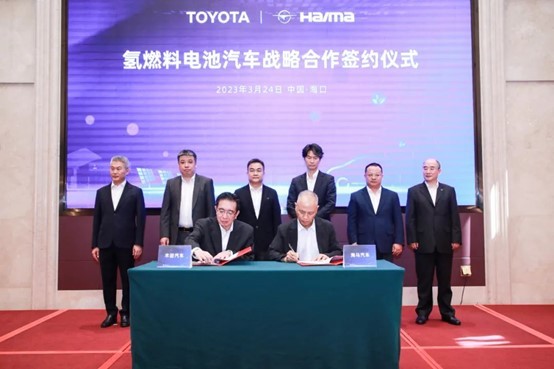 (Haikou, March 24, 2023) Toyota Motor (China) Investment Co., Ltd. (hereinafter "Toyota China") and Haima Automobile Co., Ltd. (hereinafter "Haima Auto") inked a framework agreement for strategic cooperation. The two parties will carry out strategic cooperation in the research and development and industrialization of hydrogen fuel cell vehicles (hereinafter referred to as FCEV). Toyota China Chairman Tatsuro Ueda and Haima Automobile Chairman Jing Zhu attended the signing ceremony.
According to the agreement, the two parties will equip Haima brand automobiles with mature components and systems, such as the fuel cell stacks used by Toyota's second-generation hydrogen fuel cell vehicle MIRAI. This is the first time Toyota has provided a fuel cell system to a Chinese passenger car branding firm.
The cars matched with this system are planned to put into operation in Hainan Island later this year, with the scale steadily expanding. Utilizing the location and policy advantages of Hainan Island, the two parties will cooperatively promote the development and applications of FCEV in a broader market in China.
Toyota began supplying hydrogen fuel cell components to Chinese commercial vehicle manufacturers in April 2019. Since then, it has gradually improved the entire process system of China's special hydrogen fuel cell system from development, production, market launch, and service, and has supplied a number of commercial vehicle-related enterprises with products. Toyota will continue to collaborate with Chinese partners in the future to promote the further development of China's hydrogen energy society, accelerate the commercialization and popularization of hydrogen fuel cell technology in China, and contribute to China's carbon neutrality.
Toyota will continue to fulfill its responsibilities as a global company and respond to consumer usage habits by integrating the situation and regulations of the popularity of renewable resources in various regional markets. To deliver safe and dependable all-around electrified products so that customers have more options, while also efficiently promoting CO2 emission reduction.
Source: Toyota China