HYVIA Installs First Electrolyzer in Flins Plant, Accelerating Hydrogen Mobility Ecosystem
---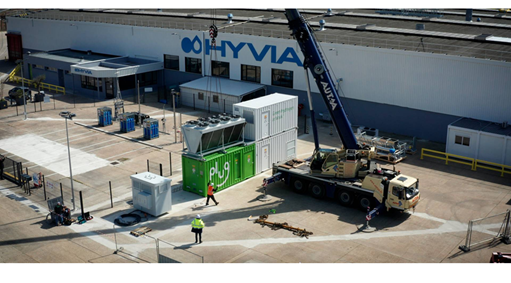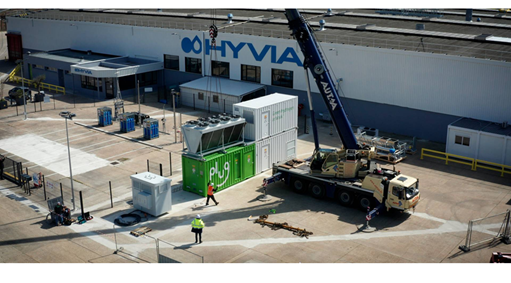 HYVIA, the joint venture between Renault Group and Plug, focused on hydrogen mobility, has installed its first electrolyzer at its Flins plant in the Ile-de-France region. This 1 MW electrolyzer has a capacity to produce 400 kg/day of green hydrogen, equivalent to 20,000 km of commercial hydrogen mobility.
The electrolyzer will initially supply the plant for fuel cell testing of the Renault Master H2-TECH vehicles marketed by HYVIA and the hydrogen refueling stations. This marks a significant step in the deployment of HYVIA's complete hydrogen mobility ecosystem.
David Holderbach, CEO of HYVIA, emphasized the importance of collaboration with Plug and Renault Group in achieving this milestone, noting that the electrolyzer would help produce 400 kg of hydrogen per day, allowing for the testing of more than 1,000 fuel cells annually.
Plug, the world leader in hydrogen solutions, delivered its first electrolyzer to HYVIA on April 5, 2023, after installing several Proton Exchange Membrane (PEM) electrolyzers across Germany, France, the Netherlands, and Portugal. With a capacity of 1 MW, the electrolyzer will generate 400 kg of green hydrogen daily.
OLIVIER CORMIERVP MANUFACTURING & SUPPLY CHAIN DIRECTOR HYVIA said, "With this first electrolyzer, the plant will produce 400 kg of hydrogen per day, which will enable us to test more than 1,000 fuel cells per year. This is a major industrial and human challenge, made possible by the strength of our collaboration with Plug and Renault Group. As such, our electrolyzer is part of the development of skills that HYVIA brings to the Renault Group Refactory in Flins, dedicated to the circular economy.
THE PEM TECHNOLOGY OF HYDROGEN BY ELECTROLYSIS
PEM (Proton Exchange Membrane) electrolysis is a method of producing green hydrogen through the electrolysis of water (H2O) by separating hydrogen (H2) and oxygen (O) with low carbon electricity.
HYVIA: A FRENCH ANCHOR FOR HYDROGEN MOBILITY IN EUROPE
Based in France, HYVIA has been developing since its creation in June 2021, a unique and complete ecosystem dedicated to hydrogen mobility for professionals. It includes a range of H2 light commercial vehicles (a van, a chassis cab and a minibus), H2 refueling stations, H2 supply as well as financing and maintenance solutions for our customers.
Source:FuelCellsWorks