Ionomr Innovations Kicks Off Collaboration With Sunfire on Industrial-Scale AEM Electrolysis
---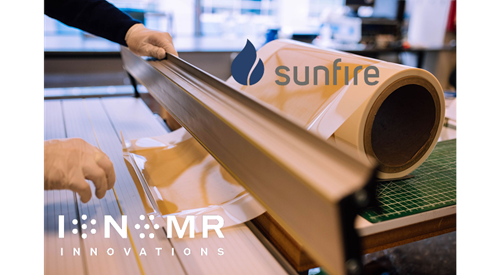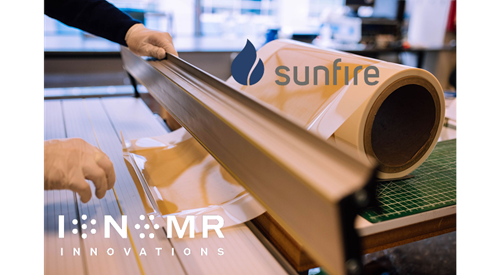 VANCOUVER, BC – Ionomr Innovations is collaborating with Sunfire to develop an AEM electrolyzer in the upper double-digit kW range for industrial scale-up using Ionomr's revolutionary, ultra-stable Aemion+® anion exchange membranes.
Ionomr is a designer and manufacturer of next-generation ion exchange membranes and polymers that serve as the fundamental building blocks of clean energy systems. Sunfire is a global leader in producing industrial electrolyzers based on pressurized alkaline and solid oxide (SOEC) technologies. The collaboration will also leverage expertise from the National Research Council of Canada (NRC) Energy, Mining and Environment Research Centre, Simon Fraser University, the University of Alberta and the Fraunhofer Institute for Manufacturing Technology and Advanced Materials IFAM in Dresden. Ionomr is also pleased to be receiving advisory services and funding from the National Research Council of Canada Industrial Research Assistance Program (NRC IRAP) to support this collaborative research and development project.
Ionomr Innovations' CEO, Bill Haberlin, says: "We are excited about this collaboration with Sunfire and the progress it signals with our AEM products. Initial discussions indicated the need for over 10,000-hour stability tests to warrant further development, which the Ionomr team has clearly demonstrated, and served as the launching point for commercial product development. We are very pleased about the growing momentum we are creating in this field and the impact it has on accelerating the Green Hydrogen market."
Ionomr's Aemion+® alkaline membranes are ultra-stable Anion Exchange Membranes (AEMs) designed to eliminate the traditional expensive components for water electrolysis – like Iridium, Platinum, and Titanium, replacing these with less expensive materials while maximizing performance.
Durability test results on Aemion+® made public last year achieved milestones that exceed internationally established AEMWE targets set for 2024, validating the disruptive economics these systems offer for green hydrogen production. Recent testing even exceeded targets for long-lived alkaline electrolysis. Importantly, Aemion+® does not use fluorinated PFAS materials that are increasingly regulated worldwide due to their toxic effects on the environment and human health.
Ionomr is undertaking joint development activities for AEM electrolysis with industry majors such as Shell and HyCC and has signed seven additional MOUs with equipment manufacturers to accelerate the rollout of commercial equipment.
About Ionomr Innovations
Ionomr Innovations is revolutionizing electrochemistry with newly developed ion-exchange membranes and polymers for clean energy. Ionomr's Pemion® and Aemion® technologies provide cost, performance and sustainability advantages for fuel cells, hydrogen production and carbon capture, use and conversion. Ionomr was founded in 2018 and employs 46 professionals in Vancouver, Canada and Rochester, New York. www.ionomr.com
Source:Ionomr Innovations Inc.