Cummins and Accelera Showcase Broadest Portfolio of Decarbonizing Technologies With an Emphasis on Hydrogen
---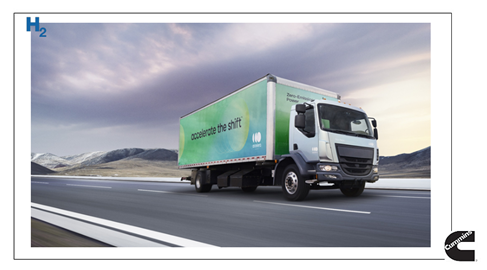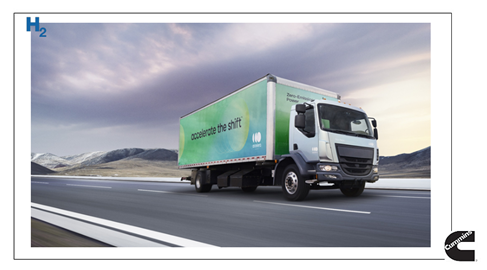 Cummins to reveal zero-carbon H2-ICE concept truck powered by X15H hydrogen engine.
Accelera to show expanded zero-emissions portfolio for the first time in North America.
COLUMBUS, Ind.–Cummins Inc. and Accelera™ by Cummins, Cummins' zero-emissions technology brand, will showcase a variety of technologies in their booth at Advanced Clean Transportation Expo (May 2 to 4, Anaheim, California). The line-up emphasizes the role that hydrogen will play as part of Destination Zero, Cummins' strategy to go further, faster to reduce greenhouse gas (GHG) and air quality impacts of its products and reach zero emissions by 2050. The company will showcase technologies across the hydrogen value chain, including electrolyzers to produce hydrogen that can power both a hydrogen-fueled internal combustion engine (H2-ICE) concept truck and a fuel cell electric powertrain.
"To fully develop the hydrogen economy, we need to spur demand for hydrogen. We are developing a range of hydrogen solutions and believe H2-ICE powered trucks alongside wider adoption of fuel cell electric vehicles can help encourage development of hydrogen fuel infrastructure. In this way, hydrogen engines and fuel cells are complementary technologies, working together to drive the hydrogen economy forward," explained Jennifer Rumsey, Cummins President and CEO. "At Cummins, we are actively scaling electrolyzer manufacturing, encouraged by the increased demand we are seeing. Electrolyzers are one of the key pieces of technology for green hydrogen production and will help decarbonize our economy and advance the clean energy transition."
Electrolyzers
The hydrogen ecosystem is underpinned by green hydrogen production. Accelera's electrolyzer technology is enabling the infrastructure scale-up needed to support hydrogen-powered vehicles.
"With industry-leading, highly efficient PEM electrolyzer technology, Accelera is tackling the chicken-and-egg scenario in the hydrogen market by scaling hydrogen production infrastructure solutions in tandem with end-use hydrogen technologies to drive demand and accelerate adoption across the value chain," said Amy Davis, President of Accelera.
An electrolyzer splits water into oxygen and hydrogen, which can be used immediately or stored as a liquid or gas and transported. When powered by renewable electricity, like solar or wind, the hydrogen produced is completely carbon-free. On display at ACT is Accelera's 2.5 megawatt (MW) proton exchange membrane (PEM) electrolyzer stack, which is the heart of its large-scale HyLYZER® electrolyzer product line.
X15H Peterbilt Model 579 Concept Truck
Cummins will reveal a heavy-duty concept truck featuring the X15H hydrogen internal combustion engine (H2-ICE). The proof-of-concept installation with ratings up to 500 horsepower (372 kW) features a 700-bar pressure 80 kg high-capacity hydrogen storage system. The H2-ICE conversion highlights the opportunity for heavy-duty truck applications to operate on zero-carbon hydrogen fuel with an operating range of more than 500 miles. The hydrogen conversion work is not expected to compromise truck performance, cargo capacity or payload. The substitution of the diesel engine with the 15-liter hydrogen engine and integration with the existing driveline highlights the ability of H2-ICE to offer a zero-carbon solution for fleets to deploy quickly with limited investment.
Technical development work on the H2-ICE concept truck was undertaken by the Cummins team at the Cummins Machine Integration Center at its headquarters in Columbus, Indiana.
The X15H hydrogen engine with up to 1900 foot-pounds torque is an all-new engine platform featuring cutting-edge technology to enhance power density, reduce friction losses and improve thermal efficiency. As a result, performance is equivalent to that of a similar displacement diesel engine and compatible with the same transmissions, drivelines and cooling packages. A further benefit of the X15H is significantly quieter running than a diesel.
"Our hydrogen engines also can help accelerate fleet decarbonization by offering familiar engine technology at a lower cost," said Jim Nebergall, General Manager of Hydrogen Engines.
Hydrogen Fuel Cell Engine
Hydrogen fuel cell engines turn hydrogen stored onboard a fuel cell electric vehicle (FCEV) into electricity to power the electric powertrain. This creates efficient, zero-emissions power for demanding applications with longer ranges and harder duty cycles. On display at ACT Expo is Accelera's FCE150 Gen 4 fuel cell engine, powered to go the distance with superior performance and reliability and zero tailpipe emissions. It features increased power density, efficiency and durability with ease of system integration. It is available in 150 kW and 300 kW configurations with the flexibility to decarbonize a range of heavy-duty applications.
Batteries and Electrified Systems
To complete the electric powertrain of an FCEV or a purely battery electric vehicle (BEV), Accelera provides a full portfolio of batteries and electrified products. This includes a range of nickel manganese cobalt (NMC) and lithium-iron phosphate (LFP) technologies, including the BP107E on display.
"We have been innovating battery technology since 2017 and are now showcasing our third-generation design to give our customers the power and reliability they need to decarbonize their fleets," said Davis.
Accelera also provides ePowertrain and traction systems in its electrified portfolio. At ACT, the brand will be debuting its next-gen 14Xe ePowertrain, featuring increased power, peak torque and motor efficiency; the industry's first Hydraulic Disc Brake with integrated parking brake; and an eOptimized Twin Countershaft Transmission for enhanced compatibility with heavy-duty applications – as well as displaying its combination of products that create a complete emissions-free medium-duty chassis.
About Accelera™ by Cummins
Accelera by Cummins provides a diverse portfolio of zero-emission solutions for the world's most economically vital industries, empowering them to accelerate the transition to a sustainable future. Accelera, a business segment of Cummins Inc., is both a components supplier and integrator, focused on batteries, hydrogen fuel cells, ePowertrain, traction drive and electrolyzers. Accelera currently has operations in North America, across Europe and China, with additional joint ventures that operate in the Netherlands and China. To learn more about Accelera, visit accelerazero.com.
About Cummins Inc.
Cummins Inc., a global power technology leader, is a corporation of complementary business segments that design, manufacture, distribute and service a broad portfolio of power solutions. The company's products range from internal combustion, electric and hybrid integrated power solutions to components including filtration, aftertreatment, turbochargers, fuel systems, controls systems, air handling systems, automated transmissions, electric power generation systems, microgrid controls, batteries, electrolyzers and fuel cell products. Headquartered in Columbus, Indiana (U.S.), since its founding in 1919, Cummins employs approximately 73,600 people committed to powering a more prosperous world through three global corporate responsibility priorities critical to healthy communities: education, environment and equality of opportunity. Cummins serves its customers online, through a network of company-owned and independent distributor locations, and through thousands of dealer locations worldwide and earned about $2.2 billion on sales of $28.1 billion in 2022.
Source:FuelCellsWorks