Ford Leads 3-Year Hydrogen Fuel-Cell E-Transit Trials for Long-Distance, Heavy Cargo Transport
---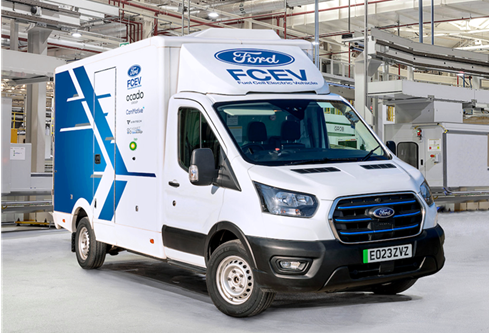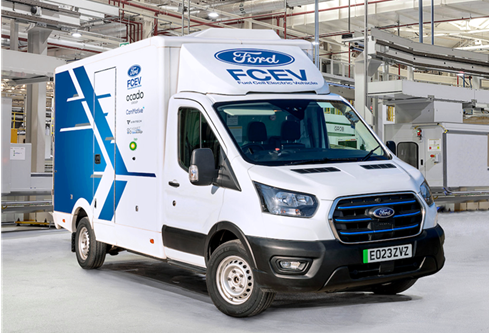 Ford Motor Co announced it will lead a consortium to test a small fleet of prototype hydrogen fuel-cell versions of its electric E-Transit model.
The three-year project, which includes partners BP and British online supermarket Ocado, will determine if these fuel-cell vehicles can provide a zero-emission solution for customers hauling heavy goods over long distances.
"Ford believes that the primary application of fuel cells could be in its largest, heaviest commercial vehicles to ensure they are emission-free, while satisfying the high daily energy requirements our customers demand," said Ford's UK chairman, Tim Slatter. This trial comes as fleet operators are increasingly interested in hydrogen fuel cells as a practical alternative to electric vehicles, supported by rising government aid, such as the U.S. Inflation Reduction Act (IRA).
Over the next two decades, most combustion engine cars and short-distance vans should be replaced by battery electric vehicles (BEVs). However, hydrogen fuel-cell advocates and some long-haul fleet operators argue that batteries are too heavy, take too long to charge, and could overload power grids. Hydrogen fuel-cell vehicles, which produce energy by mixing hydrogen with oxygen, can refuel in minutes and offer a much longer range than BEVs.
The project, partially funded by the Advanced Propulsion Centre (APC), aims to overcome challenges such as the lack of fueling stations and green hydrogen production from renewable energy sources. The trials will test if hydrogen fuel-cell technology can provide more zero-emission range for heavy-use E-Transit customers, who travel long distances with maximum loads and have limited charging opportunities.
Over the three-year project, ending in 2025, a low-volume test fleet of eight fuel-cell Ford E-Transits will run for six-month periods, offering increased range and operating hours without the need to charge. Test fleet data will provide insights into the total cost of owning and operating a large van, and the work will help establish the necessary refueling infrastructure to support a shift to hydrogen.
Prototype Ford E-Transits will be fitted with a high-power fuel cell stack and significant hydrogen storage capacity, optimized for safety, capacity, cost, and weight. Vehicle conversion will be carried out by Ford Pro, the company's commercial vehicle and services division, supported by engineers and E-Transit specialists from Dagenham and the nearby Dunton Technical Centre in Essex.
Slatter added, "Ford has an unmatched history in the commercial vehicle sector with the indomitable Transit, and we are excited to be exploring new ways to make clean deliveries an option for even our hardest-working vans on the road." The project also involves BP, which will explore hydrogen usage and infrastructure requirements, Cambustion, which will test the fuel cell system, Viritech, which will design the hydrogen storage systems, and Cygnet Texkimp, which will provide carbon fiber tooling for pressure vessels.
Ford's strategic vision includes creating low-volume assembly upfit capabilities for hydrogen vehicles, with upscaling potential, to enhance workforce skills and develop the hydrogen economy. The project will also evaluate efficient and viable recycling for end-of-life components.
Source:FuelCellsWorks