Linde Material Handling Commits to Sustainability, Producing Green Hydrogen for Its 21 Forklift Truck Operations
---
Linde Material Handling, headquartered in Aschaffenburg, has made significant strides towards sustainability, launching its own hydrogen plant and associated trucks.
This €2.8 million project, supported by the Federal Ministry of Digital Affairs and Transport, focuses on developing hydrogen infrastructure and offering extensive assistance to forklift operators transitioning to hydrogen for material handling processes.
Stefan Prokosch, Linde MH's Senior VP of Brand Management, stressed the importance of investigating alternative energy sources due to current supply challenges. Hydrogen, he suggests, is a crucial part of the future energy mix, especially for intralogistics applications. Hydrogen provides the potential for climate neutrality, swift refuelling times, and can also act as an energy storage medium with the growth of renewable energy. Linde MH aims to provide diverse energy supply options to meet user needs and respond to future energy trends.
Today, we're happy to pick up where we left off yesterday and proudly say once more: The doors to the future are open! After months of hard work, we now power our 21-strong in-house fleet in Aschaffenburg via a state-of-the-art H2 infrastructure – using a progressive and path-breaking green hydrogen refuelling system. "Hydrogen is one way to make effective use of renewable energy sources," said Stefan Prokosch, Senior Vice President Brand Management at Linde Material Handling, during the well-attended opening event. "It has great storage capabilities, and we see it as a means that will help us guide our customers towards a CO2-neutral production."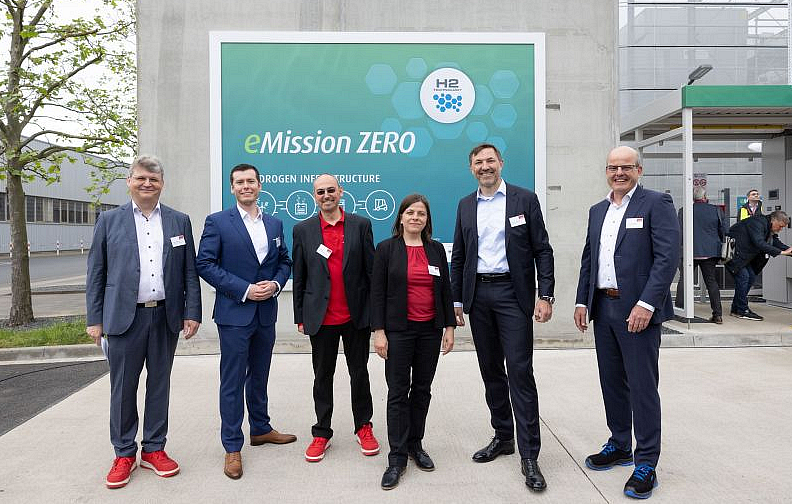 The hydrogen infrastructure at Linde MH involves several modules, with the key element being a polymer electrolyte membrane (PEM) electrolyser that can produce 50 kg of hydrogen daily. This is achieved by electrolyzing purified and deionized drinking water using green electricity, creating gaseous oxygen and hydrogen. The hydrogen is then compressed and stored in high-pressure tanks, with a software-controlled valve system regulating the supply to the dispenser for vehicle refuelling.
The project includes replacing combustion engine models with 21 electric counterbalance trucks equipped with fuel cell hybrid systems, including 12 Linde E50s and nine Linde E35s. These emission-free vehicles, critical for various tasks within the plant fleet, utilise hydrogen and oxygen in the fuel cell system to generate electric energy, which charges a lithium-ion battery to power the trucks. Water and heat are the only by-products of this process.