Rolls-Royce and EasyJet Complete 'World's First' Jet Engine Test Run on Hydrogen
---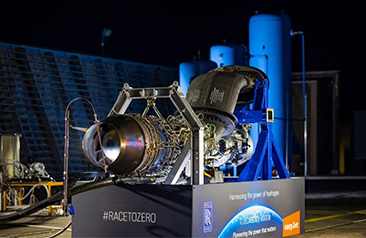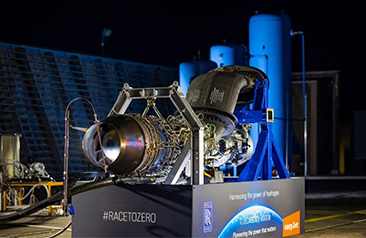 Rolls-Royce and easyJet have today (November 28) revealed they have reached a new milestone in the development of aviation with the 'world's first' run of a modern aero engine on hydrogen.
Conducted on an early concept demonstrator on the ground, the partners utilised green hydrogen to power the engine, marking a major step towards proving that hydrogen could be a zero-carbon aviation fuel of the future.
Taking place at an outdoor test facility at Ministry of Defence (MoD) Boscombe Down, UK, a converted Rolls-Royce AE 2100-A regional aircraft engine ran on green hydrogen supplied by European Marine Centre (EMEC), produced on the Orkney Islands, Scotland.
Following analysis of the early concept ground test, the partners plan a series of further rig tests in the lead up to a full-scale ground test of a Rolls-Royce Pearl 15 jet engine.
easyJet and Rolls-Royce this year (2022) announced they had formed a new partnership, dubbed H2ZERO, to develop hydrogen engine technology to power aircraft.
"The success of this hydrogen test is an exciting milestone," said Grazia Vittadini, Chief Technology Officer at Rolls-Royce. "We only announced our partnership with easyJet in July and we are already off to an incredible start with this landmark achievement. We are pushing the boundaries to discover the zero-carbon possibilities of hydrogen, which could help reshape the future of flight."
In March (2022), a FlyZero report revealed that liquid hydrogen could fuel a midsized aircraft with 280 passengers from London to San Francisco directly, or from London to Auckland with just one stop.
John Lundgren, CEO of easyJet, commented, "This is a real success for our partnership team. We are committed to continuing to support this ground-breaking research because hydrogen offers great possibilities for a range of aircraft, including easyJet-sized aircraft. That will be a huge step forward in meeting the challenge of Net Zero by 2050."